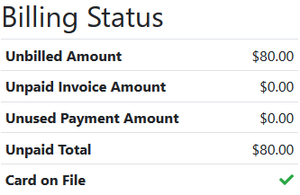 Winter Update: Documentation and Dispatch
These last few months have seen some more improvements coming to the Trackhobbs system. As more use cases come up and more new users start in organizations we're able to uncover needed features and enhancements.
Documentation
In an effort to help new users figure out how to work with they system we have started to write some documentation about how billing works. There are about a dozen ways that you can set the CFI price for a flight and all of them are listed and described in the order that the system will select them.
Billing
The Trackhobbs Quickbooks Desktop integration application has seen a number of improvements recently which should all improve the experience of transferring your customer information, invoices, and deposits directly into Quickbooks from your Trackhobbs organization records. An Accounts Receivable aging report has been added to help you more easily see if there are any members that aren't paying. You can also set up a scheduled task to email you when members are ready to be billed.
Dispatch
The dispatch process continues to evolve. It was initially conceived as a way to make sure that policies could be enforced at the time that a pilot is getting ready to take an airplane. There are a few new policy gates in place that you can use.
PIC Assertions - When someone take an airplane they are taking on a specific responsibility. The PIC assertions have been designed to be a final check list to force a pilot to think about the required preflight actions they are required to take.
Required Currency Documents - It is now possible to track Member currency documents including certificates, flight reviews, medical, insurance, and identity document currency with expiration dates. If anything is not current a dispatch will be blocked until documents are reviewed and accepted. It is easy for members to submit documents and just as easy for administrators to review and accept those documents.
Billing Status - You can now require having a credit card on file and set balance limits. If a member exceeds their balance limit based on the value of billed and unbilled flights then their dispatch will not be able to be released unless they pay or get an override exception from an administrator.
Each one of these things came from a customer's need. If you find that Trackhobbs is close, but just not quite fitting your needs we would love to hear from you. Email info@trackhobbs.com for help and lets see what we can do to solve the specific problems your organization is facing.